---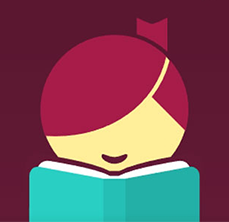 Meet Libby.
A fresh and easy way to borrow and read from your library.
Libby is a new app from OverDrive that is intended to make borrowing and reading eBooks from our OverDrive library easier for patrons. The app is available from the App Store, Google Play, and Microsoft (for Windows 10).
Libby works both as an addition to and as a replacement for the current OverDrive app. Any eBooks you check out in OverDrive will also appear in your Libby app, and vice versa.
You can read your OverDrive eBooks in the Libby app or transfer them to a Kindle device, if you prefer. When you read in Libby, you can adjust the Reading Settings to change the text size (called Text Scale) and lighting. Users can also choose different book designs, such as OpenDyslexic, that make it easier for patrons with dyslexia to read.
Another advantage of Libby is that you can use the app with multiple library cards from the same library system or from different library systems. This feature is helpful for parents that want to check out eBooks for their children or for those that patronize more than one library system. It's simple to add cards to your account, just select Library Cards in the menu. If the library cards you want to add are from different library systems, select Switch Library first, and then follow the prompts.